Little Fizz Single Booking Summer Events​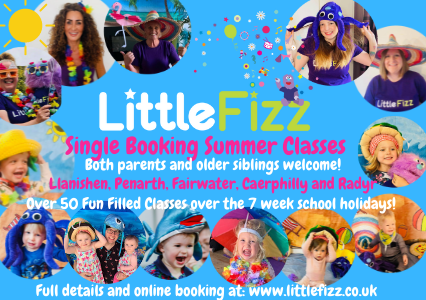 Spaces for our Little Fizz Summer Classes are going fast! They will be held throughout the long 7 week School Summer Holidays when many activities close! Each class is SINGLE BOOKING and open to everyone – not just those currently attending classes. You can book for as many or as few as you like!
We have over 50 classes running over the 7 weeks!!
School age siblings are welcome to join Summer Classes at no extra charge!
Additional adult welcome to join in – other parent/ grandparent etc
Please note classes will be have to be cancelled if there are not enough bookings – so please book at least 2 days in advance if possible so a decision can be made on if there are enough booked to go ahead.
Please make payment when you book to secure your place. You will be refunded if the class does not go ahead for any reason.
Every week we will have different songs and activities to fit in with the Beach/ Summer/ Under the Sea Themes. We have LOADS of different themed props and activities!
Beach Photo Booth with silly summer hats!
Beach Balls
Wave drums
Hula Hoops
Scarves for our "Wave Dance"
Silly Sunglasses to try on and to get photos
Giant Beach Ball
Lots of light up toys for an "Under the Sea " experience!
Collection of inflatable beach toys
Sensory Fish
Soft Sea Creature Toys – all friendly including the shark!
All venues have outdoor play areas or parks nearby so you can continue the fun after class!
Our classes are relaxed, welcoming and enjoyable for little ones, parents/ carers and older siblings.
Our unique combination of activities includes:
Action Songs with Props and Puppets
Percussion instruments to music
Movement and dance
Sensory Play
Story Massage
Parachute Games
Movement and fun with props
Storytelling and imaginative play
Yoga Inspired Movement
Sibling discounts are available where there are 2 or more children coming to a class and they are aged 4 or below. There is no charge for a baby below a year to attend a Toddler/ Preschool Class with older siblings.
Please book both children but do not pay at this stage. Please message me to apply the sibling discount and I will then send a discounted invoice.