Little Fizz Music, Movement and Play Classes (ages 0-4)
Party Fizz Childrens' Party Entertainment and Family Events
We are celebrating 18 years of creating Magical Moments and Special Memories! Our classes and parties are lively, engaging, interactive, imaginative and truly memorable! Little Fizz Classes provide the ideal environment and opportunity for parents / carers and children to spend special time together – inspiring creative development, encouraging learning and making every moment full of fun and laughter! Our Parties are fun filled for the children and stress free for the adults! Relax while the children are mesmerized by a huge range of engaging activities and our fantastic entertainers
We also offer Private Bookings for schools, nurseries and playgroups!
Music, Movement and Play Classes (age 0-4)
Little Fizz is inspired by the excitement and energy with which little people approach life; a celebration that every child is unique and will learn and develop differently. The emphasis is on individual enjoyment, expression and experience and on spending special time together.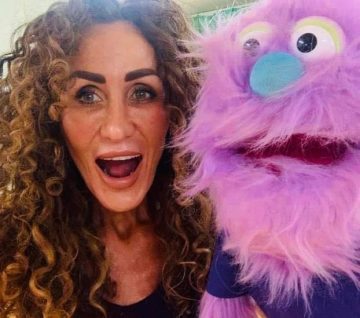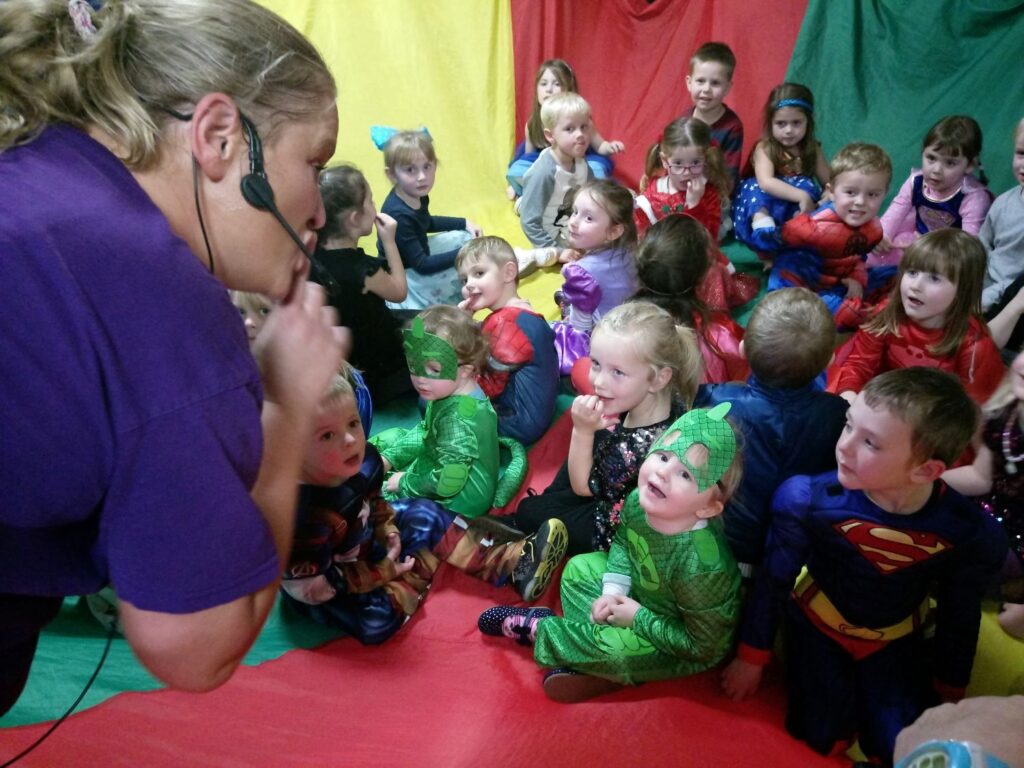 Award Winning Party Fizz provides lively, interactive and engaging party entertainment for ages 0-8 for any occasion – Birthdays, Christenings, Weddings or Family Parties. We welcome Private Bookings for schools, nurseries, playgroups and any private clients – get in touch so we can create the perfect package for you and advise on guidelines and safety as we start to return to normality.
We are very proud to be Winners in the Independent of the Year category in the Wales Children's Activities and Services Awards 2022!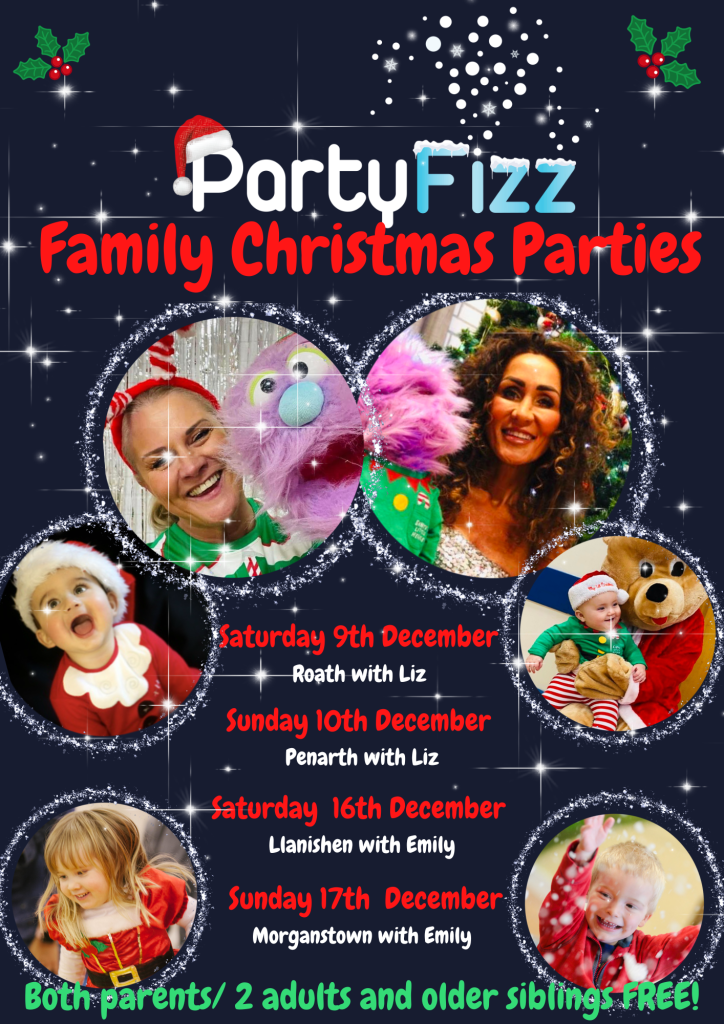 Our super popular family parties are the perfect Christmas Celebration and fun for all the family! They are held on weekends so both parents and older siblings can join in the festive family fun FREE!We can't wait to see you for the best Christmas Parties ever! Everyone is welcome – you don't need to be attending our classes.
Each party includes 45 mins of fun filled, super interactive and lively entertainment! Also a Christmas Gift from our Christmas Teddy!
Tickets are £10 with a half price charge for siblings under age 5 – please message for a sibling discount as this needs to be applied manually.
Adults and school age siblings are FREE!
Christmas Theme Interactive Entertainment: includes:
⭐️ Super Sensory Winter Play!
⭐️ Christmas Hat Dress Up!
⭐️ Fun Action songs with props!
⭐️ Jingle those bells!
⭐️ Parachute Games
⭐️Sensory Parachutes!
⭐️ Winter props eg snowballs, snowmen
⭐️ Fun instruments to Christmas Faves!
⭐️ Fun props for festive movement!
⭐️ Winter Lights Sensory Glo Toys!
⭐️ Fun Musical Games and Activities
⭐️ BOUNCING and more BOUNCING!
⭐️ Dancing & Parent/ Child Movement!
⭐️ Bubbles, bubbles, more bubbles!
⭐️ Original Little Fizz Songs/ Dances!
⭐️ Family Snowball Fight Fun!
⭐️ Giant SNOWSTORM!!
Let's make this year's parties extra special with magical memories to treasure forever!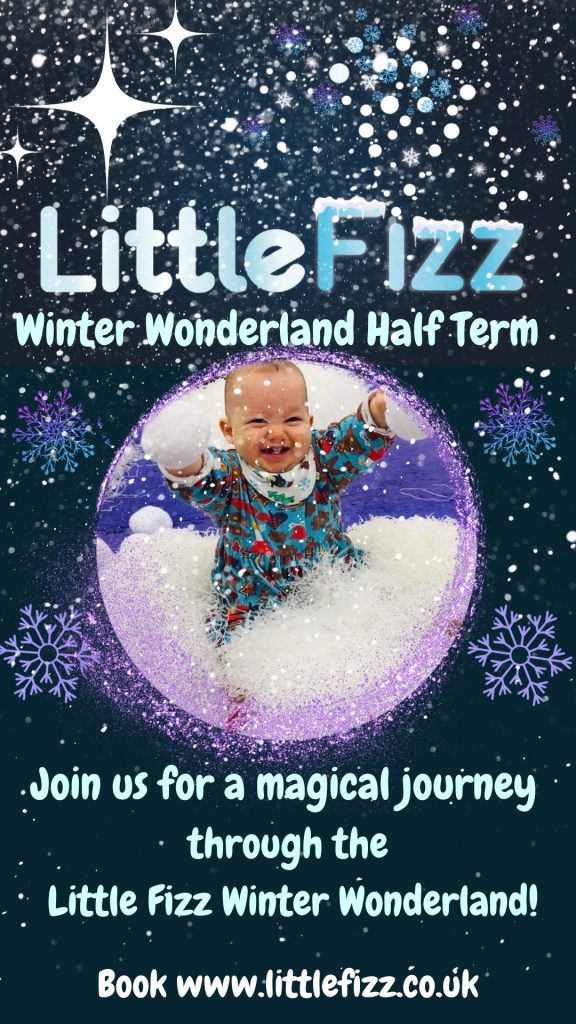 ️Our new Half Term, starts Monday 6th November! Winter Wonderland" is a magical theme with lots of lights and sparkle, fab new songs and dances – but always including our Little Fizz faves (!)
️Amazing new props (snowballs, snowmen, glitter shakers, snow globe spinners, colour changing LED candles – just to name a few!) and also a great opportunity to get the snow machine out!
️No matter how cold and dark it is outside , you can be guaranteed of a warm welcome and bright and happy times at Little Fizz!l
️As we get closer to Christmas we will have lots of festive fun that everyone can enjoy!
️ Look forward to welcoming you soon!
We have yet again been so impressed with Party Fizz! In what has been a confusing time for our children, being at home and out of routine, due to the current situation... we have thoroughly enjoyed the wonderful stream of online entertainment from both Liz and Emily, direct to our living room! As a result, we thought we'd go for it and signed up to attend the Easter party! We are so glad we did! Both children had the an amazing time! Not a single dull moment, kept busy the whole time, singing and dancing! We will most definitely be signing up to the rainbow half term! So excited for more! And so excited to have nam slot in the day planned by wonderful entertainers instead of me! Phew! If you have any doubts! Just try it! Thank you so much! Xx

Samantha Nichols


April 17, 2020

We chose party fizz for our sons 4th birthday party. Hannah was amazing, absolutely fantastic! She kept the kids attention right until the very end of the party! When I picked my son up from nursery on the Monday, I was told that the kids hadn't stopped talking about what fun they'd had! We were very impressed and would 100% recommend party fizz as birthday party entertainment. Thank you Liz and Hannah xx

Meryl Evans


July 11, 2017

Emily did our daughters' birthday party last weekend and she was a big hit with not only with my two girls who regularly attend her usual classes but with everyone else who have never attended Little Fizz before. There were also children there that were between 7 and 8 and Emily made it fun for them too. We absolutely love Emily and look forward to carrying on with her classes. Would aldo like to say a huge thank you to Liz for all of the advice regarding the party and for your wonderful Little Fizz. My girls absolutely love it. xxxx

Louise Lovell


August 9, 2019

So pleased we picked Partyfizz for our daughter's 4th birthday. Emily was absolutely brilliant at engaging all of the children in the activities. The party plan was brilliant, and totally fitted the theme of the party and the venue. Would absolutely 100% recommend party fizz for party entertainment- amazing and personal service.

Alexandra Walters


April 9, 2017

What can I say?!?! Absolutely brilliant service! Emily was incredible at Harrison's party yesterday and got everyone involved. The kids had an absolute ball and Harrison was made to feel very special. Emily was fantastic with all the children and the whole experience was amazing. Liz has been great throughout the whole booking process and I would 💯 recommend little fizz to anyone booking a party!! Thank you so much xx

Beth Lewis


July 22, 2019

Party Fizz recently organised my daughter's 5th birthday party and it was spectacular. Before the party we had a conversation about her likes and dislikes and favorite music. The day went smoothly and Amy was amazing!!!! She captured the kids attention from start to finish which is no mean feat with over 25 kids!!! Not only did the kids enjoy but so did the parents!! The party was a huge success, and it was great receiving many positive compliments from the parents If you want a fab party then Party Fizz is the way to go

Heather Lloyd-Jones


March 31, 2015

Liz entertained 40, 3 and 4 year olds at my daughters 4th birthday party. Pirate and princess themed and they all loved it. With a variety of games, music and story telling Liz kept them all captivated for 2 hours (which meant even the mums and dads enjoyed a break). Excellent party, wouldn't hesitate to use Party Fizz again and would definitely recommend.

Vicky Normansell


September 28, 2015